ProHealth Prime, It's Just Better!

It's not just Health Insurance, it's HealthCare insurance!
It covers expenses beyond hospitalization. Doctor consultations, laboratory test and pharmacy make up for significant portion of our healthcare expenses. The Wellness feature fetches you rewards based on the number of steps taken per day towards better health maintenance i.e. premium savings based on the steps you have walked per day.

Covers non-medical expenses
No surprise bills in your hospitalization ensuring 100% of claim. ProHealth Prime takes care of your non-medical expenses. Syringes, hand gloves, even registration charges and so many other things which are neither medicines, nor consultancy, nor diagnostics and yet the expenses which form significant part of hospitalization charges.

Switch it off when you don't need it
For the first time ever, you can switch off your cover when you won't be needing it, like while abroad, for a month & get a discount on the next premium.

Choice of Any Room category
ProHealth Prime gives you complete peace of mind by allowing you to opt for "Any room" category, suite or above, as you deem fit.

Unlimited Restoration, for Real !!!
Your ProHealth Prime coverage restores to 100% of Sum Insured unlimited times if at any point, you are short of coverage. And that's for both related and unrelated illnesses / injuries. Applicable from 2nd claim onwards.

Annual Health Check up
From 1st year onwards for all the adults insured to take the utmost care of your health, not just in illness but in wellness too.

And yes, Pre Existing Diseases ARE Covered
There is only a 90-day waiting period for claiming the expenses in case of hospitalization for illnesses such as asthma, diabetes, hypertension, dyslipidemia, & obesity related conditions. Other PED's as per mentioned in Annexure.

1 Year Premium Waiver
When you go through the saddest moments and need the financial support, we ensure insurance premium is not the burden, to you and your family. If diagnosed with any of the listed Critical Illnesses or in an unfortunate event of Accidental Death, we waive off one year renewal policy premium so you and your family stay protected throughout.
Prohealth Prime Features
Pre, Post & In-patient Hospitalization
Get cover up to Sum Insured for pre, post, & in-patient hospitalization – for 60 days before & 180 days after the hospitalization in Protect & Advantage Plans, and for 30 days before & 60 days after the hospitalization in the Active Plan.
Room Accommodation
Get a single private room with AC & ICU room up to Sum Insured. If the Sum Insured is less than or equal to ₹3L, then the hospital room is covered up to 1% of the base cover amount.
Outpatient Expenses
Enjoy cashless cover up to ₹50K per year for pharmacy, consultations, diagnostics, including dental and vision, only in the Advantage Plan.
Daily Hospital Cash
Get daily hospital cash as per your Sum Insured up to a maximum of ₹7K per day.
Air Ambulance
Protect & Advantage Plan users can get Air Ambulance cover up to ₹10L.
Comprehensive Cover
This is a comprehensive plan that covers modern & advanced treatments for ailments such as mental illness, HIV/AIDS & STDs up to the Sum Insured.
Entry Age
For Protect & Advantage Plans, children from 91 days to 25 years are eligible for family floater & adults who are 18+ years are eligible for the individual type policy. For the Active Plan, children from 91 days to 17 years & adults from 18 years to 70 years are eligible for individual policy type.
Payment Options and Tenure
Pay a single premium each year or divide it into half-yearly, quarterly, or monthly payments, along with policy tenure of your choice – either 1, 2, or 3 years.
Relationships covered
You can buy this plan for yourself & your immediate family, including grandparents & grandchildren. You can also avail this for your extended family including in-laws, uncles, aunts, nephews & nieces.
Bariatric Surgery Cover
Advantage Plan holders can get Bariatric Surgery Cover up to a maximum of ₹5L.
Road Ambulance & Donor Expenses
Road ambulance & donor expenses are covered up to the Sum Insured.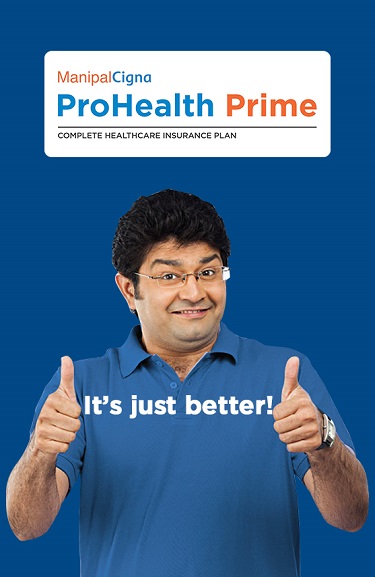 Discounts made better

Standing Instruction Discount
Standing Instruction Discount: Get a discount of 3% on the renewal premium, if it is received via a Standing Instruction.

Long term discount
Avail a long term discount of 7.5% on the total premium for a one-time 2 year policy term payment and enjoy a 10% on the total premium for a one-time 3 year policy term payment

Family Discount
For multi-individual policies within a family comprising 2 or more members, enjoy a discount of 20% on the total premium.
Claiming Process done easy
1800-419-1159 (toll-free number) Cigna@mediassistindia.com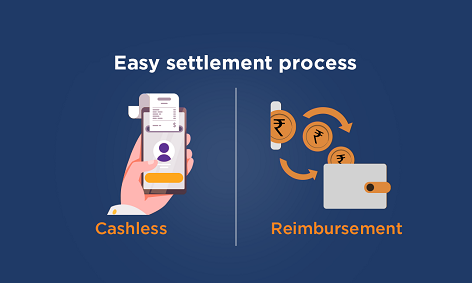 Start your simple settlement process here.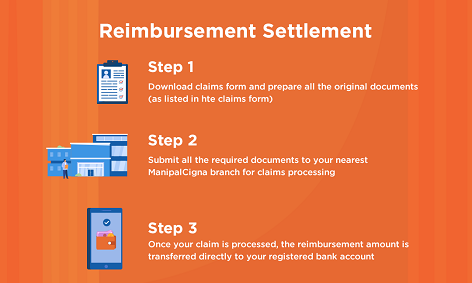 Reimburse your medical bills in three easy steps.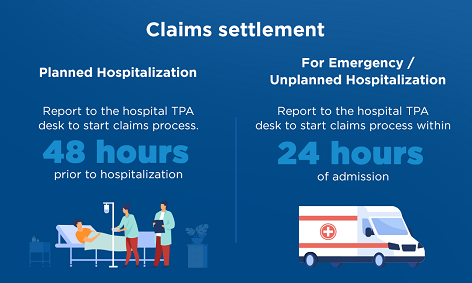 Get cashless settlement easily whether for planned or unplanned hospitalization.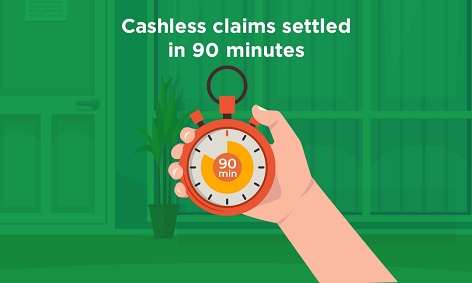 Assured claims granted in 90 minutes. Check claim status easily.
Frequently Asked Questions
Why should one buy ProHealth Prime Product?
ManipalCigna ProHealth Prime offers high Sum Insured to cover Hospitalisation expenses, Pre & Post Hospitalisation expenses & day care treatments. It also provides cover for Individuals with existing conditions such as Asthma, Hypertension, Diabetes, Obesity etc.
It is a comprehensive product with very innovative and beneficial covers such as coverage for Non-Medical Expenses, Option to choose 'Any room' category, Switch off, Premium waiver benefit, Unlimited restoration of Sum Insured, Guaranteed Cumulative Bonus, Discount on Network Providers and much more.
There are optional packages and optional covers which makes the product highly customizable and making it suitable for all the customer segments.
What do we mean by Non-medical expenses?
Non-medicals expenses are expenses incurred during hospitalization on items such as syringes, urine container, and registration charges etc. which are generally not covered in most of the insurance products. But we have heard you and we ensure 100% coverage for your expenses. Hence we say, everything is covered!
Did you ever know that one can switch off the Insurance cover like you switch off lights, fans when you don't use them?
Switch off feature lets you switch off the cover for upto 30 days in a Policy Year, if you are travelling abroad and allows you to save premium. You have to just intimate us the dates of your travel and we shall take care of the rest.
Why do we say we are by your side always when in life you meet with an unfortunate event?
When you and your family goes through the saddest lows of life and when you are in need of the financial support, we ensure Insurance Premium does not become a burden to you and you and your family stays protected throughout. Our Premium waiver benefit will waive off the 1 year renewal premium if you (Primary Insured cum Proposer) are diagnosed with any of the listed Critical Illnesses or in case of an unfortunate death due to an accident.
Are you wondering which room should you opt while getting admitted in the hospital?
Worry not now! We understand you and ProHealth Prime will ensure you have complete peace of mind by allowing you to opt for "Any room" category without any limits or deductions.
One is never sure how much coverage is enough and what can you do if the entire Sum Insured gets exhausted in a year due to multiple hospitalizations and claims?
We hear you and acknowledge this concern. With ProHealth Prime we restore 100% of Sum Insured after 1st claim in a policy year, if at any point in time you are short of the coverage. This is possible in case of both related and unrelated illnesses and accidents.
We do not just believe in covering hospitalization expenses. What do we mean by that?
With the coverage for OPD expenses and simplified wellness offerings, we have gone beyond Hospitalization. OPD contributes to out of pocket expenses for customers which include doctor consultations, diagnostics and pharmacy. With wellness feature, one can accumulate rewards based on steps taken i.e. the more you walk the more you save on premium by availing discount.
We provide more at the same price. How is that?
With the option to avail Cumulative Bonus Booster, you avail 50% of additional coverage every year up to maximum of 200% instead of 25% each year. Which means you can get double coverage in 2 years.