Health Insurance Expert, with Global Experience and Local Expertise
Manipal Group is India's Second Largest healthcare chain. Manipal owns and operates 27 patient friendly hospitals across 15 cities with 7600+ beds and a pool of 4000+ doctors.
Cigna is a Global Healthcare service company with roots as deep as 225+ years. Cigna has sales capability in 30+ countries and jurisdictions. Cigna has 1 Million + relationships with healthcare providers, clinics and facilities.
Quick and Easy Claims
2,093cr worth
Claims Settled
12.88 Lacs
96%
Cashless approval settled within
2 hours
1,60,497
Claims serviced internationally
Fully-loaded Products
15+
Up to 40%
Discounts Available
Up to 3cr
Coverage at Affordable Premiums
Better Experience
30,000+
Annual Health Check-ups Availed
18,000+
OPD Cashless Network
8500+
Wide Range of Network Hospitals
Distribution Network
77
Branches across India
51,000+
Agents providing our Health Plans
500+
Distribution Partners
Nice to know that ManipalCigna is conscious about my health. I am totally satisfied with your benefited messages and hope in future also give guidance.Also doing good...
Mr. Debashish M
NEW DELHI, INDIA
Best service! ManipalCigna service was quick. Whatever requirement was needed during claims was completed quickly and everyone was very co-operative. My experience is best...
Mr. Suresh Dashrathrao Kyama
Solapur, INDIA
Thank you very very much! I would like to give ManipalCigna team 5 stars as they answered my queries patiently and I admire the manner in which the customer representative spoke to me.
Mr. Dhananjay Kumar
Patna, INDIA
Health Hai Toh Life Hai
At ManipalCigna Health Insurance, we aim to go beyond your Insurance needs, and want to help you be a Healthier you. Discover Proactive Living and other resources that have been designed to help you live a healthier life
Wellness Bites
Keep active and eat healthy, value your health to value yourself!
Health Insurance is Financial Vaccination
Listen to this 'Podcast Series' to learn from Experts on each dimension of health and financial well-being
VIEW ALL
To Live Well, Live Proactive! Join our proactive living programs
Login
To start Proactive Living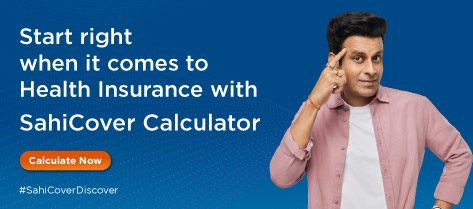 Health Insurance Zaroori Hai
Health Insurance deconstructed!
It's best to start at the basics, so we've divided the health insurance journey into three parts to help you understand what to do, at the right time!
Did you know?
India has one doctor for every 1,457 citizens (Source : Business Standard)
Did you know?
Only 18% of people in urban areas of India are covered under any kind of health insurance scheme (Source :Econominc Times)
Did you know?
71% of the populace finance their Out of pocket medical expenditure through household revenues (Source : The Wire)

Did you know?
Household health expenditures include out of pocket expenditures (95%) and insurance (5%) (Source : The Wire)
Did you know?
The highest percentage of out of pocket health expenditure (52%) is made towards medicines (Source : The Wire)
Did you know?
According to the World Bank, about 25% of India's population had some form of health insurance in 2010 (Source: Wikipedia)
Did you know?
Indian Men are more susceptible to heart disease than women (Source: Statista.com)
Did you know?
India ranks 145 among 195 countries in terms of quality and accessibility of healthcare. (Source ibef.org)
Did you know?
India is a young country with a median age of 28 years with a life expectancy of approx 70 years in 2020 (Source : macrotrends.com)
Did you know?
India ranks 135 globally, in terms of life expectancy (Source : worldometers.info)
Did you know?
In India, 60+ is the age group with most number of incidences of diabetes (Source : Statista.com)
Did you know?
Communicable diseases account for 3 out of the top 10 causes of deaths in India ( Informa Markets)
Did you know?
India is 1 of the top 3 countries for medical tourism (Source oceanairtravels.com)